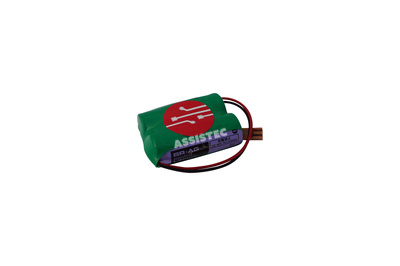 LITHIUM BATTERY 6V FOR BETA ABSOLUT PULSECODER COMPATIBILE
Panasonic BR-AGCF2P lithium backup battery compatible with A98L-0031-0011#L
LITHIUM BATTERY 6V FOR BETA ABSOLUT PULSECODER COMPATIBILE
Panasonic BR-AGCF2P lithium backup battery compatible with A98L-0031-0011#L
Product supplied with dedicated connector to be installed on Fanuc Beta amplifier i series and some Fanuc CNCs and PLCs.
This product replaces FANUC references A98L-0031-0011 # L, A02B-0168-K111 and A06B-6093-K001.
Please note to replace the Panasonic BR-AGCF2P battery (A98L-0031-0011) only when the aplifier is turned on. If the battery were replaced in the absence of power, the encoder would lose its absolute zero position.
The FANUC battery has an estimated life of about one year, the manufacturer strongly recommends replacing it every year to avoid data loss.
Voltage: 6V
Capacity: 2200 mA
Length: 34 mm
Depth: 17mm
Height: 45,5mm
Weight: 36 gr
New Product
For additional information please write to: marketing@assistec.cc